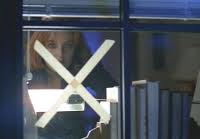 I have a crude X in black duct tape on my laptop, and no other stickers. Almost everybody asks what it means because… it looks like it means something.
It originally didn't mean very much; I bought this laptop & went directly to a conference, and just wanted it to look slightly distinctive, and the duct tape was all I had.
To my surprise, this was a guaranteed conversation starter. Even baristas remember me as the guy with the X.